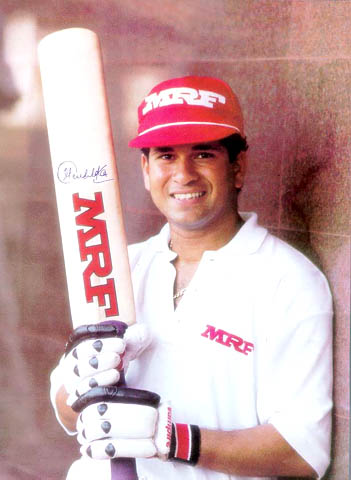 Well, what can anyone say about this man, or should I say Superman? All that I can say is, all we mere mortals are extremely fortunate to be living in the same times as him, fortunate enough to be able to witness a genius at work. Nay, he is much more than a genius, he is an icon, a demi-god. I dare say He is God! He is a beacon of eternal hope in times of never-ending despair. The salve for an entire nation's troubles. A true patriot, always at the service of his nation putting personal tragedy aside. Man has no language rich enough to describe his persona.
How does one describe the thrill that passes through one's self when he walks in to the middle, bat in hand, when he takes position at the crease. And then when he sends the ball flying. The moment that we have all been waiting for. Well, one can go on about the heavenly pleasures of watching Sachin Tendulkar play.
Again, there are a plethora of sites on the net dedicated to Tendlya. I am a little late off the block and it will once again be a wasted effort trying to match them in terms of the information on Tendulkar. But I will add something that reflects my perspective on Sachin. The best site on Tendulkar in my opinion is the one maintained by Keeron Modi. Very comprehensive, huge archive of articles, stupendous collection of pictures and complete statistics with instant updates. Check that one out.